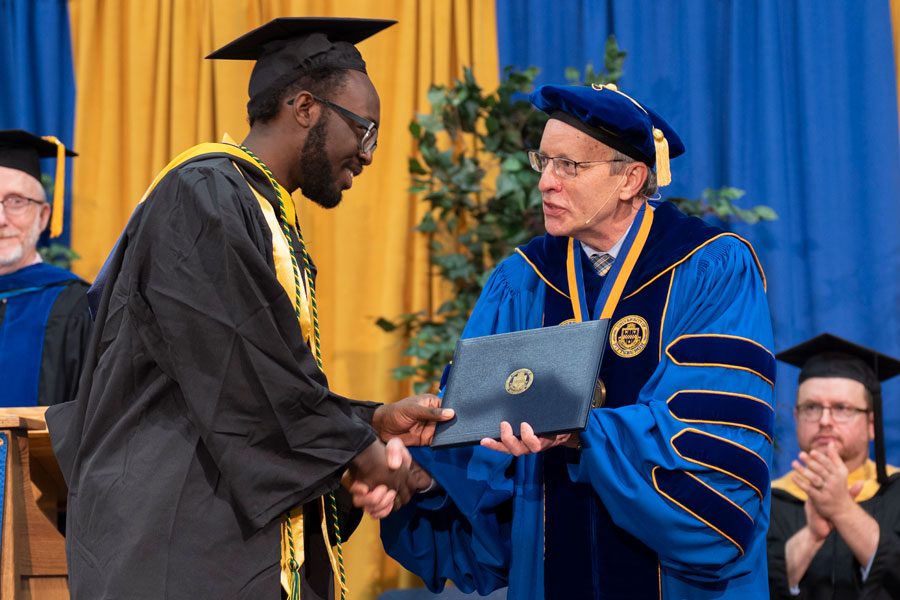 Graduation from the program does not automatically result in teacher certification. An application for a Pennsylvania Instructional I Certificate must be submitted once a final transcript has been generated and all PECT or Praxis II exams are passed. 
We know you are going to be in a hurry to apply for certification, but there are many things that must be done before you can apply:
1) You must complete student teaching and all courses needed for your degree and certification area.
2) You must have a 3.0 GPA (this applies to both baccalaureate and post-baccalaureate students). If you find yourself with less than a 3.0 GPA, make an appointment with the program director to discuss alternative certification routes.
3) You must pass all required PECT or PRAXIS II exams and provide a copy of the official scores.
4) WE must have current clearances on file for you.
The PECT tests are computer-delivered. Please go to this link for study guides, practice tests and location information www.pa.nesinc.com.
The Praxis tests are also computer-delivered. Please go to this link for study guides, practice tests and location information www.ets.org.
All certification candidates can find information for qualifying test scores on this document: GPA Qualifying Test Scores Dec 2022.pdf


Early Level Education majors who must take the PECT modules may qualify for a fee waiver from Pearson. If you are currently enrolled and are currently receiving financial aid, use this form: PECT_FeeWaiverRequestForm.pdf

It is your responsibility to submit the application for certification once all requirements are met. 
Applications for certification are completed online through the PA Department of Education's Teacher Information Management System (TIMS). Effective November 1, 2016, the application fee is $200.
To learn how to use TIMS, applicants should go to the PA Department of Education's website for a link to a video. 
Once you apply for certification through TIMS, we will be able to see that your application is ready for our endorsement. We will not endorse your application until we have all required documents in your permanent file.  Please see this Certification Checklist.pdf

If you want some help with navigating the process, please contact Jody Randolph at 814-362-5056 or via email at jar1@pitt.edu to arrange an appointment.
If you want to search for open teaching positions in Pennsylvania, you can search for career opportunites on the PA Department of Education's website.
Once you receive your certification, if you have a need to inactivate it, you may request a voluntary inactive certificate status by submitting an application online via TIMS.
For compliance with the Higher Education Opportunity Act, following is information about licensure pass rates for the 2021-2022 academic year.

Institutional pass rate percentages are not provided by Educational Testing Service (ETS) or Pearson Testing for content areas where fewer than 10 students take the test. In addition, students can pass certification exams by meeting cut rate scores based on a 3.0 GPA or by using qualifying scores based on GPAs which are above or below 3.0. The pass rates that appear on the Title II Report are based soley on those who passed certification exams using the cut rate score.
The table below is a breakdown of the 2021-2022 results for our institution for each certification area that had test takers and takes into account those who passed via the qualifying scores based on GPA.
One of our Health and Physical Education completers took and passed the content knowledge test but did not ever attempt the fundamental subjects test. This test taker is employed outside of Pennsylvania.

| | | | | | |
| --- | --- | --- | --- | --- | --- |
| Certification Area | Test | # of Test Takers | Passed with Cut Rate Score | Passed by GPA Qualifying Score | Institutional Pass Rate |
| Grades PK-4 | PECT 1 | 5 | 3 | 1 | 80% |
| Grades PK-4 | PECT 2 | 5 | 4 |   | 80% |
| Grades PK-4 | PECT 3 | 5 | 4 |   | 80% |
| BCIT and Health & PE | Fundamental Subjects | 6 | 6 |   | 100% |
| Health and Physical Ed PK-12 | Health and PE Content | 6 | 5 | 1 | 100% |
| Bus, Computer and Info Tech | Business Content | 1 | 1 |   | 100% |
| Social Studies | Social Studies Content | 2 |  2 |   | 100% |
For more information about pass rates, contact the director of the Education Program.
If you are having trouble viewing any of the documents, please contact Jody Randolph at jar1@pitt.edu, and the information will be sent to you.
Pitt-Bradford Academic Programs
"The program provided me with the knowledge, understanding and experience to confidently take on this profession. I feel extremely prepared and confident in my abilities, thanks to the Pitt-Bradford Education Program."
Erica Blair, '17
First Grade Teacher
Warren Elementary Center, Warren, PA